World Heart Day 2010 Being Observed Today
By Naiwrita Sinha, Gaea News Network
Sunday, September 26, 2010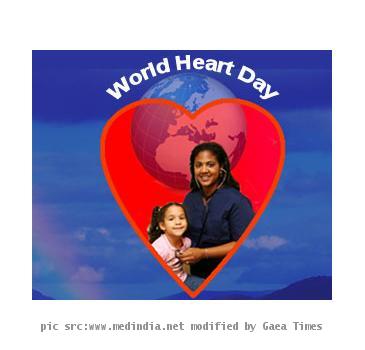 more images
SAN FRANCISCO (GaeaTimes.com)- World Heart Day 2010 is being observed globally this year on 26 September, 2010. The World Heart Day is an annual event that aims at creating awareness about heart diseases which claims the lives of 17.1 million people annually. The theme for the year 2010 is to promote heart awareness in work places. This is due to the fact that adults spend majority of their time working and so workplaces should be the ideal place to create awareness about keeping a healthy heart. The major causes of heart diseases have been attributed to tobacco use, inactivity and an unhealthy diet all of which happens to be common among the working population. In order to manage work stress, people often resort to smoking and neglect healthy eating habits.
The World Heart Day 2010 has started the mission of creating healthy habits among employees and employers that will benefit their heart. Certain guidelines have been issued by the "World Heart Federation" for the people to follow in their workplaces. They are instructions to maintain a balance between exercise and diet along with consuming at least five servings of fruits and vegetables a day. Working people according to the guidelines must find healthy eating places if they are not carrying packed food from home.
The long list of instructions also stresses on the low consumption of salt and getting some exercise every day of at least half an hour duration. In various cities across the globe, a number of awareness camps would be organized on the World Heart Day 2010 so that people are more aware about the ways of preventing heart ailments.