Bother May help to Cure her Sister's Mystery illness
By Mayuri, Gaea News Network
Saturday, December 18, 2010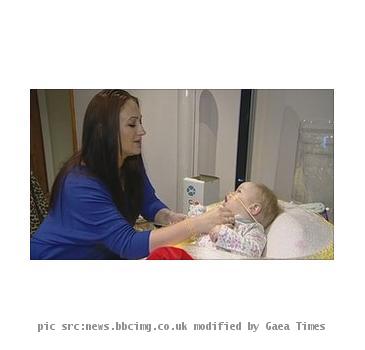 more images
NEW YORK (Gaeatimes.com) — The parents of a severely disabled 19-month-old girl said they hoped her new brother may eventually help find a cure for her mystery illness.
Despite numerous tests, doctors still do not know what is wrong with Harriet Gregory, from Spondon, Derby.
Stem cells and blood from eight-week-old Michael's umbilical cord could be used in research or a transplant.
The children's mother Lesley Gregory said she hoped Harriet's condition could be improved in the future.
Harriet, who needs 24-hour care, is hooked up to an oxygen cylinder, a machine to monitor her heart and a tube to feed her. Recently her family started a drive to raise 30,000 so she can be cared for in a customized downstairs room at home.