Paralysed patient gets stem cells to walk again
By IANS
Tuesday, October 12, 2010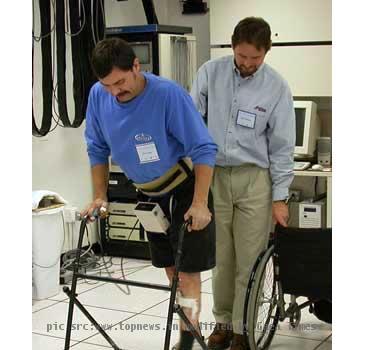 LONDON - A paralysed patient has become the first person to receive a shot of human embryonic stem cells to help him walk again.
Doctors believe stem cells will help nerves in a newly-damaged spinal cord regenerate before the disability becomes permanent.
The patient has had millions of stem cells injected into the site of his injury in an effort to find a revolutionary cure, according to the US firm carrying out the hugely controversial experiment.
The study has been described by University College London professor Chris Mason as "the dawn of the Stem Cell Age".
It is likely to reignite a fiery debate over the ethics of the treatment, which uses cells derived from three-to-five-day old fertilised embryos discarded by in vitro fertilisation (IVF) doctors, the Daily Mail reported.
It offers hope to patients suffering from devastating spinal injuries and blindness - the two specific areas being targeted by the US tests.
Researchers are also looking to unlock the potential of stem cells for new ways to treat cancer, Parkinson's disease and a host of other illnesses.
In animal experiments, paralysed rats were able to walk again after being injected with the cells, but the effect on humans is still unknown.
The landmark test at a hospital in Atlanta, Georgia, by US biotech giant Geron comes after America's Food and Drug Administration eased restrictions on stem cell research.
Geron president Thomas Okarma said it will take some time to get the results.
The technology was championed by Superman star Christopher Reeve, who received the treatment for his spinal injury after a fall.