Sabrina Parker Loses Battle With ALS
By Reema, Gaea News Network
Monday, December 20, 2010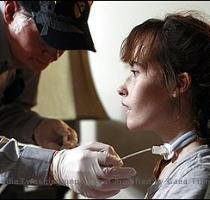 more images
JACKSONVILLE (GaeaTimes.com)- Sabrina Parker has been struggling with ALS (Amyotrophic Lateral Sclerosis) for the last one year, but somehow, she was unable to overcome the wrath of the disease and finally left for the heavenly abode yesterday at the Duke University Hospital. She was the youngest patient ever diagnosed with the deadly nerve disease. It seems that she had inherited the disease from her mother, Melissa Kay Parker, who died at the age of 24 due to ALS. Since then, Sabrina Parker has been living with her grandparents, Noland Parker and Zelma Parker.
Although she knew that not too much time is left for her, she tried to live her life to the fullest and wanted to enjoy every moment of it with her boyfriend Matt Scozzari, whom she could date for just three months. She did not tell her boyfriend about this disease as she did not want to lose him. However, he soon observed that Sabrina Parker was losing weight rigorously, frequently falling short of breathe and fumbling while speaking. When he asked her about the matter, she always replied that nothing was serious, although she knew everything about it. She confined about her disease to a few of her closest pals, but never her boyfriend.
This disease was hereditary in her family, as not only her mother, but also her maternal grandmother, Lorna Kay Melton suffered from ALS and lost her life in 1993, just an year before the birth of Sabrina Parker. Following the familial pattern, her grandparents were under the impression that if she would cross her 12th year without the symptom of this disease, she would be safe for the rest of her life. However, despite going through her 12th birthday smoothly, without any symptom, she fell prey to it in 2009, at the age of fifteen, and could not combat the hereditary curse of the family.
Filed under:
Neurology
,
World
Tags:
ALS (amyotrophic lateral sclerosis)
,
Duke University Hospital
,
Florida
,
Jacksonville
,
Lorna Kay Melton
,
Matt Scozzari
,
Melissa Kay Parker
,
Noland Parker
,
Sabrina Parker
,
United States
,
Zelma Parker