Four dead, 2,000 affected by dengue in Pakistan
By Awais Saleem, IANS
Saturday, October 23, 2010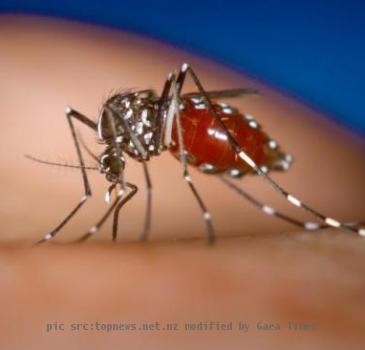 ISLAMABAD - More than 2,000 people are suffering from dengue fever in Pakistan's Punjab, Sindh and Khyber Pakhtunkhwa provinces and at least four patients have died in the past few days, health authorities said Saturday.
On Saturday, 152 new patients were admitted to hospitals in Karachi while more than 200 have been admitted in Islamabad, Rawalpindi, Multan and Lahore. According to the figures of the National Institute of Health, "tests were conducted on as many as 3,853 suspected patients and dengue virus was detected in 1,841 of these over the weekend".
"The number of patients under treatment in different hospitals across the country during the last week or so has reached 2,888," reported Dunya TV.
"General public should remain vigilant because this virus preys on clean water," Health Secretary Khushnood Akhtar Lashari told IANS.
"The government has set up separate dengue wards at leading hospitals and fresh stocks of required medicines and testing kits have been ordered," he added.
Meanwhile, the Punjab government has suspended Executive District Officer (EDO) Health Fayyaz Ranjha on the charge of "failing to ensure proper spraying in affected areas to guard against dengue". The provincial health secretary Fawad Hasan Fawad has also ordered an inquiry into the allegations of procurement of substandard anti-mosquito spray.
Umar Farooq Baloch, the EDO, Health, Lahore said: "Spraying would be carried out in affected areas twice a day to ensure maximum prevention." Principal of Allama Iqbal Medical College, Javed Akram, said "the tests for dengue fever are not expensive and every individual should get these done as a precaution these days".
According to the World Health Organisation, some 2.5 billion people, two-fifths of the world's population, face the risk of being affected by the disease which is prevalent in more than 100 countries. There may be 50 million cases of dengue infection worldwide every year.
(Awais Saleem can be contacted at ians.pakistan@gmail.com)